Chin Enhancement: The Perfect Guide to Chin Fillers & Long-Lasting Results
How long do chin fillers last?
At our Marylebone aesthetics clinic, led by Dr Nish Shah, we specialise in a range of aesthetic treatments that can help you look and feel your best self. Today, we're exploring our chin filler treatment in more detail – outlining what it is, how it works, what its benefits are and what you can expect from your results.
What is chin filler?
Chin filler is another name for dermal filler. It can be used to create a more desirable shape, address asymmetry and combat loss of volume. For example, women typically seek a more rounded face, while men often want a sharper or more "masculine" jawline. This procedure is highly popular at our Marylebone clinic.
What is chin filler made of?
Dermal fillers are made of hyaluronic acid, a substance which is found naturally throughout the body. Hyaluronic acid is known for its moisture-boosting properties, which is why fillers themselves are ideal for sculpting and volumising the skin, as well as smoothing deep lines and wrinkles.
How long does chin augmentation last?
So, how long do chin fillers last? You can expect your results to develop in a matter of days, and then last up to 18 months. A typical timeframe is around 12 months. You'll then need top-ups to prolong the effects, which Dr Nish Shah can schedule with you.
Is chin augmentation a safe treatment?
Absolutely. All our treatments are led by Dr Nish Shah, and we would never offer a treatment that wasn't safe, effective or beneficial. Chin augmentation is far less risky than surgical procedures and other kinds of aesthetic treatments, partly because complications like infection and allergic reactions are kept to a minimum.
Does chin augmentation look Natural?
You're in capable hands here in Marylebone. That's because we aim for a subtle enhancement every time. With well-placed injections and our specialist knowledge of facial anatomy, we can help create results that look elevated, yet natural.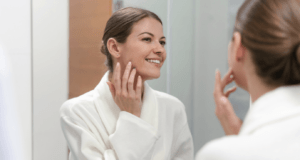 Do I need a consultation for this treatment?
Of course. This is how we can be certain we're achieving your desired results; acting professionally and responsibly; ensuring your safety and comfort; and creating a tailored treatment plan. We'll check over your medical history, skin condition and concerns like allergies before making our recommendations.
What else do I need to know?
We highly recommend contacting Dr Nish Shah and his team for a private consultation. To arrange yours, give our friendly team a call and we'll look forward to seeing you here in Marylebone very soon.